Preparing & Upload
Artwork
Preparing The Graphics
Few things to keep in mind while working on your file.
1. Color Mode
All colors must be provided in CMYK Color
(Use the GRACoL CMYK profile for the most accurate results.)
Please Use 16 Bits / Channel Mode
2. Resolution
150 DPI .
Please Download the template for any of the products and design to scale,  Nearly all of our templates are built at 100%.  (Very large products are built at 25%.)
 3. Preparing Text
Text should always be vector (not pixels) for
highest quality output. Fonts must be embedded or converted to outlines.
Artwork with missing fonts will be rejected.
4. Visibility
Only leave final artwork visible.
If you don't want it to print, then it must be on a layer with visibility turned off. Make sure the template layer is turned off.
 5. Acceptable File Format
JPG
This is the only format that is acceptable if you are going to use DisplayMembers's direct upload (see below for instruction)
.TIFF / .PDF 
If your gonna share your artwork to us , we do accept a flattened (.tiff)or a Created Outlined (.PDF) document.
Uploading Artwork
Our Preferred Method
Direct Uploading
Once you've placed an order on our website, Please follow these steps. Upload Your Artwork Directly To DisplayMember.com
Login to your account
Click on your Orders
Click on the Order Number
Click on
VIEW ARTWORK STATUS
Upload Your Artwork and follow the directions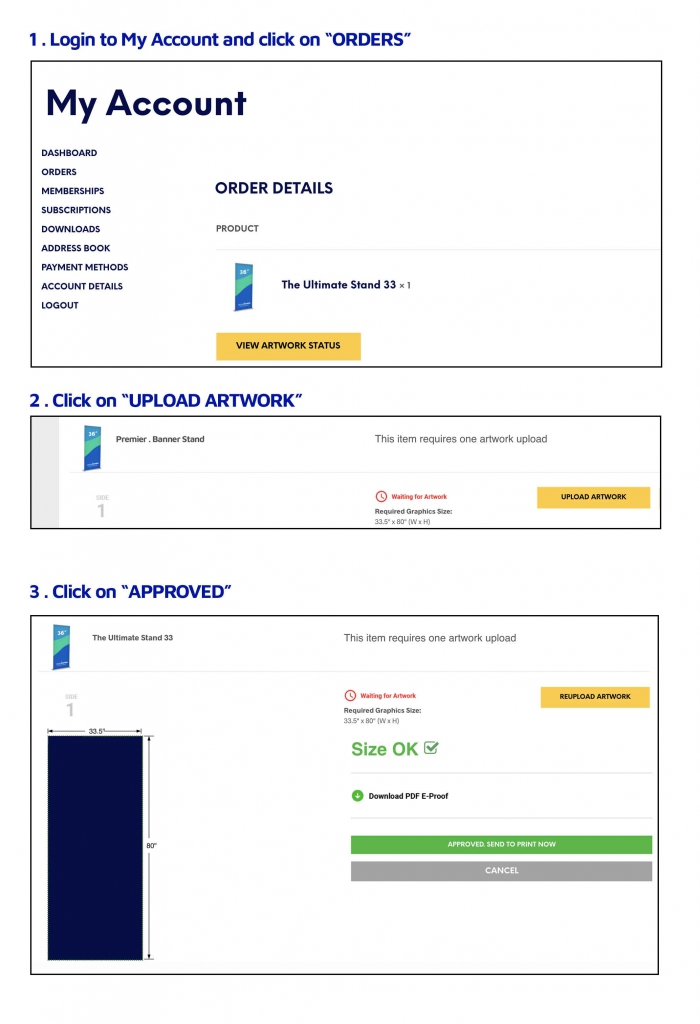 Transfer Files
Your can use one of the following
FREE Services to send over your artwork.